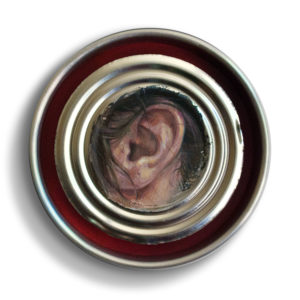 An abusively alliterative appellation for these works could be "the tenuous tether of taut twine and tin cans". It's a reference to an early technology most of us used as kids, struggling to hear the person on the other end of the line. Whether it's a tin can or Skype, we're still frustrated when the line drops in slack silence.
The ear paintings are painted on can lids and the larger portraits are cut to reference a lid's jagged circumference. The metal is serrated, suggesting that we're not entirely safe. Technology facilitates a certain communication, however incomplete. In text, the nonverbal is immediately out. Voice calls lack body language. All these are in want of a shared context with the other person. It's that shared context that I'm interested in; it's empathy really.
A painting is an object. Whatever is represented, symbolized, or alluded to, the painting itself is a thing and not simply an image. Within this body of work, I am consciously addressing the topography of the painted surface, from paint that is barely a patina on the metal to impasto. The support itself may also be deconstructed and bent, with pieces chiseled out. Much of the narrative payload is delivered through the mode of presentation. There is a violence inflicted upon these profiles. The paint does more than describe form and physiognomy, it becomes an analog for the human. Mechanical pixelation does not simply disintegrate an image, it damages the paint. There is real loss.
---
Statement for And This Our Measure
Painting, representation, and figuration have all been declared dead and still they go for a walk. Painting refuses to be contained or content in thought. It wrestles its way into the world of flesh and blood beings. I approach painting like a filmmaker. There's a story and then casting, wardrobe, scouting the set, blocking, and direction. From sketches and photographs, I compose an image that is real but quite untrue in the documentary sense. Paintings demand to be read and not consumed. My paintings are mediated images – not incidental, but intentional. The space within the work is active. Charged images and text call in and call out like hyperlinked threads. I use titles as literary hooks and loaded images are symbolic links to other contextual readings.
I can't say that I'm driven by inspiration so much as by conviction. For most, work has efficiently been reduced to uninvested labor. The individual is brought to the level of a machine. We're drugged to numbness and to elation, the threat of real passion being too great. Bureaucratized social interactions mimic the machine. Data is now the lens and proxy for reality. All this is background and prologue. My paintings do just what I do – tell stories, crack jokes, ask questions and prompt people to think hopefully.
Bio
Assistant Professor of Painting at Tennessee Technological University – School of Art, Craft & Design
Born in Richlands, VA
MFA – painting & printmaking from East Tennessee State University
BFA – printmaking from Virginia Intermont College
Teaching in higher education since 1999
Professional Work in Web Development/Programming
---